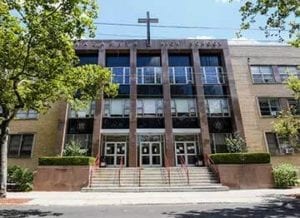 The first semester of the initial year of Nazareth High School was spent at the newly completed Bishop Kearney High School since Nazareth's building was yet unfinished. In the spring of 1963, Bishop Brian McEntegart dedicated the new building, and the first class of freshmen joined the small Nazareth faculty in moving into their own school. The Catholic people of Brooklyn had generously given millions of dollars to ensure the continuance of Catholic secondary education in the Diocese of Brooklyn. Brother John Olsen, C.F.X., served as the first Principal from that year until 1966. He, and the other Xaverian Brothers and Catholic laymen who administered and staffed the new school, chose to center the goals of Nazareth around the theme "wisdom, age, and favor with God" because these were the qualities of Jesus as described in Scripture as he grew up in the town of Nazareth.
The first class of Nazareth Kingsmen graduated in June of 1966. Nazareth prospered in those years using new educational methods that characterized the school as a forward-looking, progressive institution.
In 1974, the Principal, Brother Mathew Burke, with the encouragement of Bishop Francis Mugavero, formed a new Catholic school governed by a Board of Trustees because the Diocese could no longer continue to subsidize the school. The new school was called Nazareth Regional High School and was staffed mostly by Catholic laymen along with some religious men and women. In 1976, the school admitted women for the first time, and in June 1980 the first female valedictorian was selected.
In 1994, Nazareth Regional High School was formally affiliated with the network of schools sponsored by the Xaverian Brothers American Province. As a Xaverian Brothers sponsored school, Nazareth is part of a proud and distinguished legacy of educational excellence that is the Xaverian Brothers' tradition.
In February of 2012, the Board of Trustees of Nazareth Regional High School, citing financial concerns and low enrollment, announced that Nazareth would be closing in June 2012. However, due to the remarkable response, and passion displayed by the Nazareth community, including students, families, alumni, administrators, coaches, faculty and staff the Board of Trustees again voted, only two months later, unanimously deciding to reverse its decision and keep the school open. The key to all of this was the strategic development of the Principal's Plan, which laid the groundwork for securing Nazareth financially for the next four years, through the 2015-16 school year. In addition, Nazareth would not have remained open if it were not for the exceptional support of Sharon Patrick. Nazareth has repaid its loan and is financially sound. Enrollment is up over 30% in the past five years, every student receives a laptop, a new 3-D Virtual Lab has been created and a new science lab and media center has been built. The curriculum has become even more rigorous; Nazareth students have the opportunity to earn over 50 college credits while still in High School. Nazareth is once again returning to its roots of being a forward-looking, progressive institution that emphasizes the use of technology to enhance student's success. Nazareth RHS continues to be "Where Bright Futures Begin."