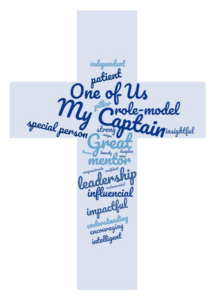 We started this FUND in Brother's memory with a primary focus on helping two Juniors and their families defray part of the tuition cost as they enter their senior year. We also targeted a % of the Fund's assets each year towards helping the school with projects that will benefit other students beyond the two winners.
We have raised $30,195 for the school year ending June 30, 2021!
Due to this wonderful result, a prayer service for Brother Matthew was held on June 17th in the Chapel at Nazareth during which we awarded two juniors with the first Brother Matthew Burke Scholarship – $5,000 each, towards their senior year tuition. In addition, both the school administration and the scholarship committee, awarded a total of $5,000 to 4 other students to help with their financial needs going into their senior year. The combined total awarded was $15,000.
In addition to these students meeting the established criteria for the scholarship, each had submitted an essay with the theme "Building Bridges" (a term used by Brother Matthew as he reflected on the early years of Nazareth when he was a teacher and Principal). They also shared their thoughts, dreams, and stories with members of the Scholarship Committee via a 30-minute Zoom interview. We were impressed with their willingness to share their experiences/learnings, the impact Nazareth is having on their lives, their goals for helping others and their curiosity as to what Nazareth meant to us Alumni during our time here.
Introducing the two winners!
Chartania Cantave
Chartania has a GPA of 90 and is a hardworking, responsible, and committed student. She is a member of the National Honor Society and recently started to play softball. Recently, Chartania's family lost everything in a fire. Fortunately, everyone was okay and her mother thanks God for this. She has been a constant presence in school during the pandemic and loves Nazareth. In her interview and essay, Chartania talked about her continuing to build a path into the future parts of her life and how Nazareth has taught her that there is nothing she won't be able to handle in the real world. She is very interested in the performing arts (dancing and acting) and intends to pursue that as well as forensic science in the future in ways that can help her community in every way possible. "My heart has grown bigger over the past few years because of all the love I've received from Nazareth. Nazareth changed my life"
Alpha Teskani
Alpha has a GPA of 91 and is a junior leader who has led open houses tours this year. He is always willing to help his classmates, and is a positive influence on his peers and younger students. Alpha is also a leader as a basketball player and is respected by his teammates and coaches. He is the type of student who is appreciated for all he does for Nazareth. In his interview and essay, Alpha shared his thoughts on the importance of having the right mindset for achieving success in the future and recognizing that making the right choices, digging deeper into yourself, having the support of others, and believing in self can all build a bridge to future success. Alpha is very focused on helping others become better individually, is interested in physical therapy and mental health, and hopes someday to own his own business. "Developing as a person in the environment at Nazareth is something that sticks with you. Change is something that comes with it and I'm proud of the changes that have occurred."
The recipients of the additional funding who also had wonderful essays and interviews were:
Dementria Baptiste
Corey Campbell
Rajere Cooloute
Angel Davis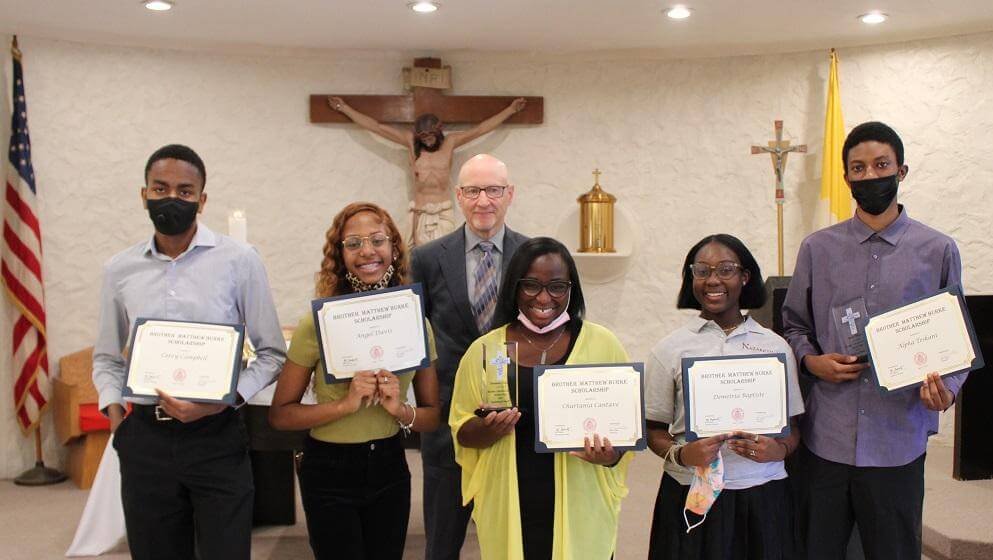 At the Prayer Service we spoke about why Brother Matthew was so special to us. On the winners' plaques, we included this collage from emails the Alumni shared about Brother. He has left us rich with wisdom in his words and deeds and we will continue his legacy.
2020-2021 Brother Matthew Burke Fund Scholarship Committee
Mike DiFede '73
Gerry Ferrante '73
Jesus Linares '73
Bob Liodice '73
Denis Wuestman '73 – Chairperson