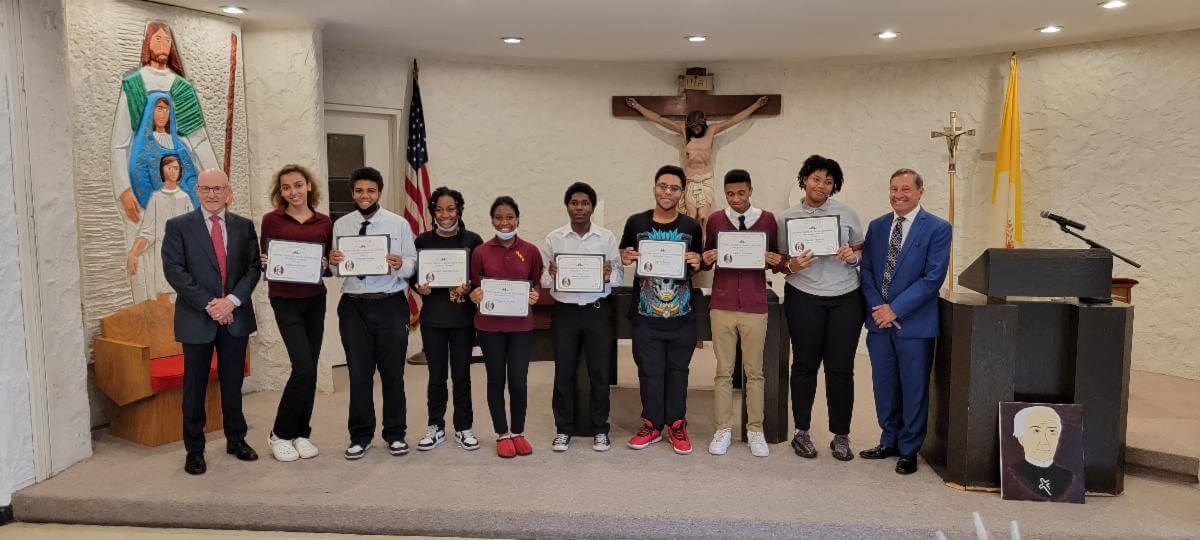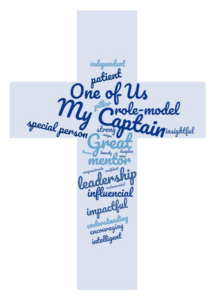 "Building Bridges After Nazareth" is a great testament to the legacy of Brother Matthew Burke as we continue to impact the lives of current Nazareth students via the Brother Matthew Scholarship Fund.
During our first two years, we were able to provide scholarships to deserving Nazareth students, so they can complete their education and pay it forward.
Thanks to many of you – we raised $71,940 in the first two years of this Fund!
Your outstanding generosity has made an incredible difference. Four juniors were awarded a $5,000 Brother Matthew Burke Scholarship and ten other juniors benefited from smaller scholarships – for a total distribution of $35,000. In addition, we committed $10,000 towards academic and arts related needs that will benefit a broader base of students. Finally, we carried $26,940 forward to sustain this scholarship fund as far into the future as possible.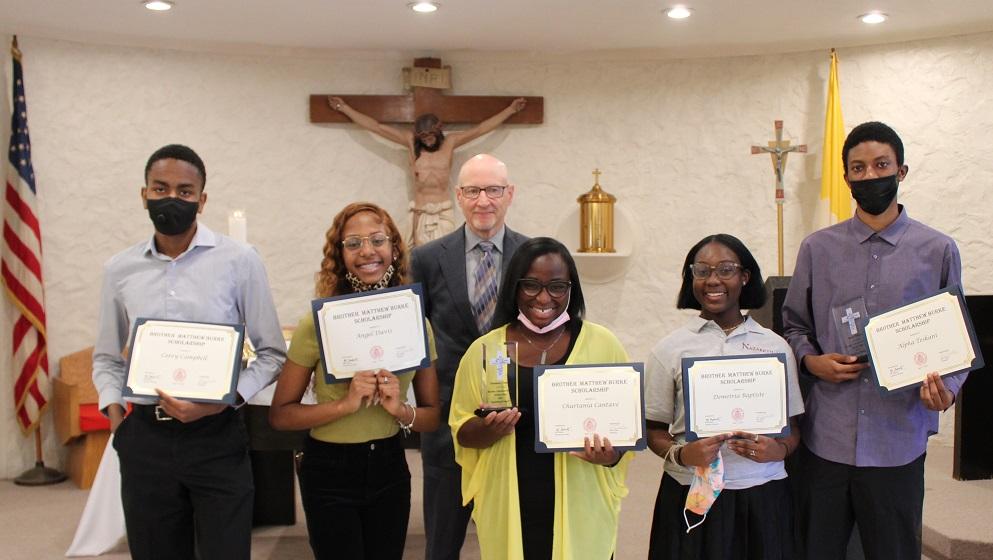 Our mission continues into 2023. We hope that you will be with us for the journey ahead and donate for this extraordinary and worthy cause.
Click here to contribute to the 2023 Campaign Now and help more students like our winners
The Fund is focused on helping Juniors and their families defray part of the tuition cost as they enter their senior year. The students nominated are asked to write an essay about what Nazareth means to them and how they will Build Bridges for themselves and others in their senior year and beyond. Final candidates are subsequently interviewed by members of the BMSF committee. Winners are then selected and are announced and celebrated in June. Our goal is to find those special candidates who demonstrate, not only scholastic excellence, but care of community, faith, respect, and commitment to learning.
Our Goal for the 3rd Year of the Brother Matthew Burke Annual Scholarship Fund is $50,000!
This Fund continues the legacy of Building Bridges so others can continue to do the same. Here is an excerpt from a speech Brother Matthew gave in 2017 as to how he saw Nazareth as a bridge in the early years….
"Like all institutions, including the Catholic Secondary Schools, the life that emerged during our early years was typically replete with various models of fragmentation that sought resolution through the creation of viable bridges. Yet, my memories of our early years are filled with innumerable instances of faculty and students seeking to trace the footprint of God, knowing that the spirit of Christ is at work in all places and situations. And through this understanding and conviction, Nazareth's members so often accepted the challenges of moving to the frontiers as bridges so that no person would be excluded, that people of need would indeed be given the help required"
If you have sent in your 2022-2023 donation already – our sincere thanks.
Please consider the impact you will have on these deserving students. Join your classmates and friends, who have supported this worthy cause, as we build this bridge as far into the future as possible. Any amount will help, and we have added a feature in Paypal to allow for monthly contributions if you wish.
Thank you for your continued support and consideration. Please click on Donate button below to contribute now!
If you would like to send a check, it can be made out to the following:
Nazareth Regional High School (Please put BMSF in memo section):
Nazareth Regional High School
Advancement Office – Mr. Jerome Kilbane
475 E. 57th St.
Brooklyn, NY 11203
Thank you for your consideration and we wish you a safe and healthy 2023…
2022-2023 Brother Matthew Burke Fund Scholarship Committee
Mike DiFede '73
Gerry Ferrante '73
John V. Keenan '75
Jesus Linares '73
Bob Liodice '73
Bob Stack '72
Denis Wuestman '73 – Chair